Welcome, if you are seeing this page you were invited to my Plex libraries. I hope you enjoy them!
This page will go over a few things you should know and how to maximize your viewing experience.
Service Uptime
I have configured an uptime page that will check the Plex Server and Ombi statuses and report their current status. The status page can be found here:
Plex is a passion project for me. I am not in it to make money (see Donations), I host Plex for myself to use and for the benefit of others to enjoy at the same time. As such, Plex may not always be online but my goal is to have it be online as much as possible. In addition to the status page above, there is software running that will attempt to restart the Plex server if it is ever offline, so it may never be down unless my home internet is down or my power is out. In which case, you may not be able to view this page either 🙂 The status page linked above is an external service that should be available, so feel free to bookmark that page to check on the status at any point.
Content Availability
I will make every effort to keep space available to house movies and TV shows that have been requested. At some point the drives will become full and I will have to make a hard choice: buy more hard drives or delete content that is not being watched. I will do my best to not delete content that has been watched recently, but in the event I do remove something you wanted to see, you may always submit a new request for it (see Requesting New Content)
Donations
The Plex service I host is free to use, I run a computer with large drives I had to purchase for Plex and pay for fast internet to make the viewing experience as good as I can make it. I have real costs to hosting Plex for everyone to enjoy. I personally use Plex instead of paying for cable and you are free to do the same.
I host Plex for fun and to hopefully help people cut down on some expensive streaming bills like I do for myself.
I cannot charge a monthly rate for Plex as I am not a business hosting this as a service, I am simply sharing my movie and TV libraries with you to watch on-demand over the internet.
Since there are real monthly costs, please consider donating what you feel Plex is worth to you as often as you feel comfortable:
https://www.paypal.com/paypalme/wylanswets
Playback Quality
By default, all Plex player apps usually set a internet streaming quality to some setting other than "Maximum" for the default playback quality. In certain situations it may be helpful to set the quality to less if you are on a slow connection (like cellular or slow hotel wifi). When you tell Plex to stream at a lower speed, the overall quality of the video may be compressed and the audio may sound strange. To avoid this when you are on fast internet, please set the video quality to Maximum.
This setting needs to be adjusted per device, so if you are logging in to Plex on multiple TVs or other smart devices, you will need to adjust this on each new device.
These instructions may be different per device, but in general you are looking for a "Quality" setting. Here is the setting found on the web version of Plex: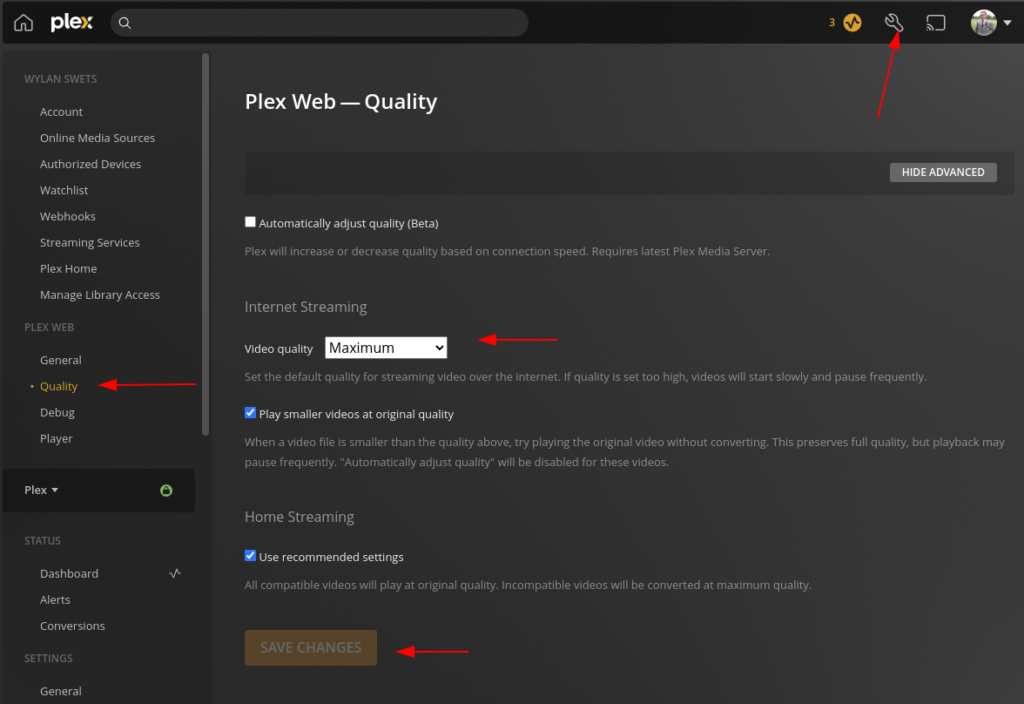 Click to view the quality settings found on the iPhone app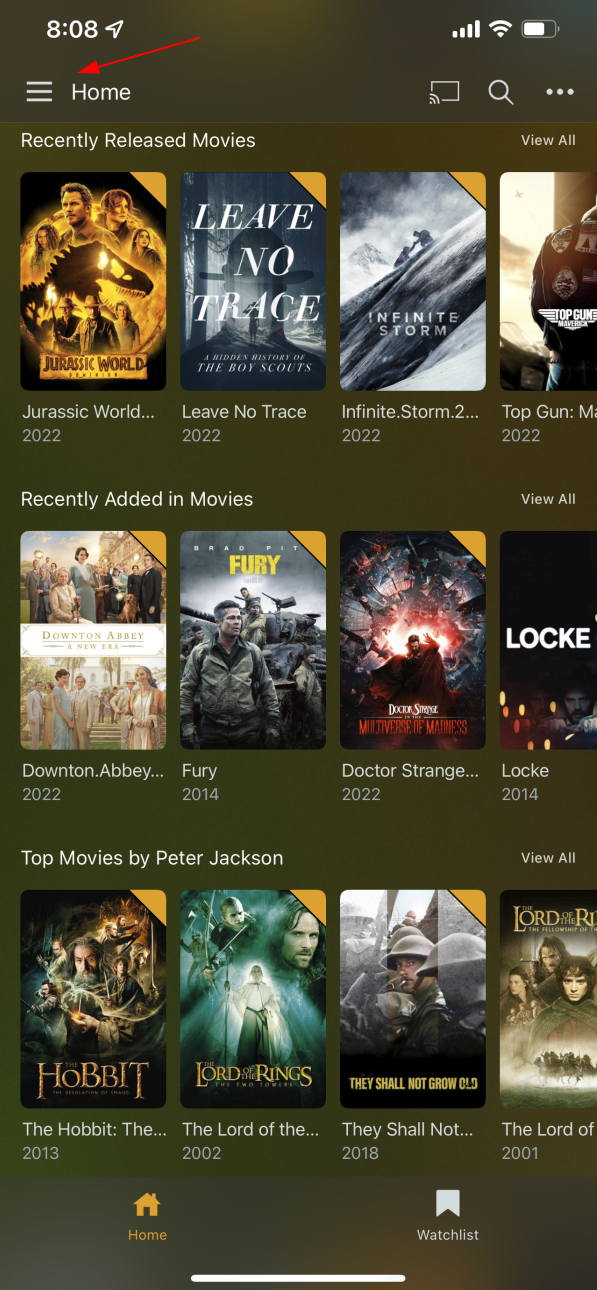 For other players such as Apple TV or Roku, you may have to look around to find the settings.
Wrong Audio Language
By default, Plex may incorrectly choose the audio playback language for a movie or show. Some videos come with multiple audio language tracks that you can switch between. You are able to adjust this per movie when playing it back, but you can also set your preferred audio language in your account.
These instructions may differ per device, but on the web (https://app.plex.tv/desktop/#!/settings/account) you can find this setting by opening your avatar in the top right, clicking account settings, then scroll down on the page until you find the section "Audio & Subtitle Settings" (pictured).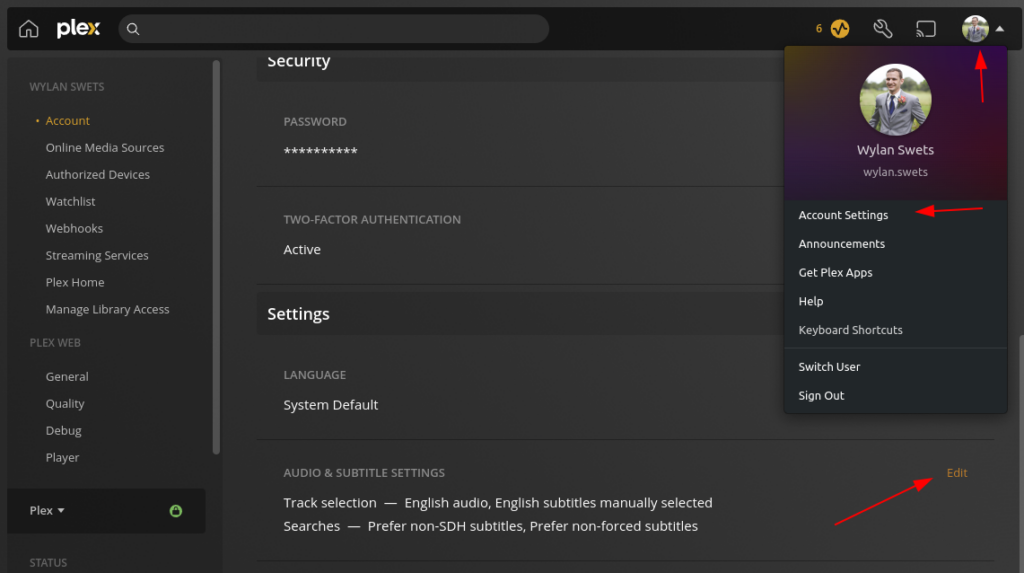 From the newly expanded setting section, you can make the selections that best fit your preference. The first option labeled "Preferred audio language" will make Plex attempt to play everything in that language if it is available on the video file.
Don't forget to click "Save Changes" on the bottom right of that section!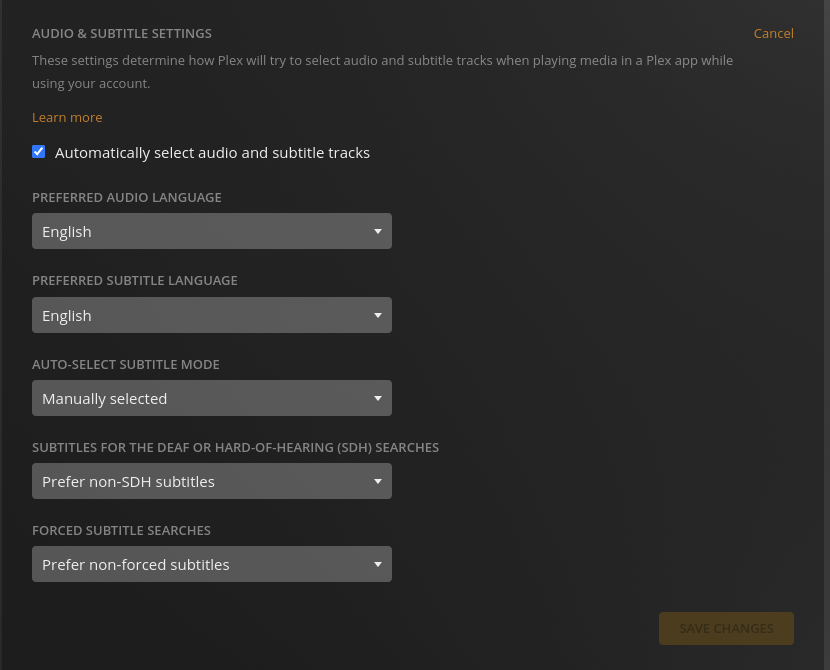 Requesting New Content
I host a special application called "Ombi" that is able to take requests for new movies or TV shows and automatically start downloading them to Plex. Please keep in mind my hard-drives are not unlimited but I make every effort to manage the storage so new content can be added.
If you would like to request a movie or TV show, please head over to
https://ombi.wswets.com/
Choose the "Sign in with Plex" option and enter your Plex credentials (or simply approve the login).
You can use the search bar to find a movie or show and select the cover art to open it, verify it is what you are looking for, and request it.
If it is already on Plex, Ombi will indicate that it is "Available" and even provide a direct link to start watching it on the device you are on when you click on that particular item in Ombi.
Keep an eye on your email inbox as Ombi will monitor Plex and send you an email when your requested movie or show becomes available!
Typically it takes about 20 minutes or less for a movie to become available in Plex if it is found.
If you have any issues with content that is automatically downloaded, or shows or movies that never show up in Plex, please let me know and I can investigate if the content is available for me to get.
New Content Newsletter
Ombi has a newsletter that is mailed out weekly to round up any new movies or TV shows (or episodes) added that week. See screenshot for an example: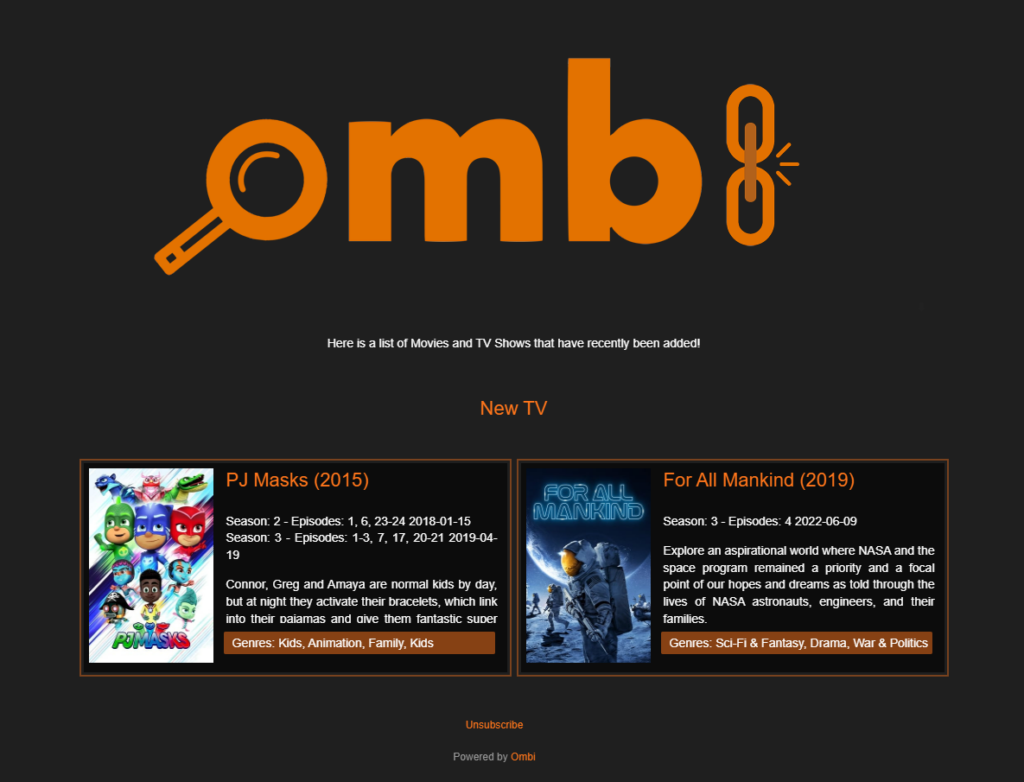 Unfortunately, there is currently not a way for you to sign up automatically, but if you would like to be on the newsletter, please fill out this form and I will subscribe your email to the newsletter. Note: you may choose an email address not associated with your Plex account and it will still be able to receive the emails 🙂
Content Issues
If you come across content issues such as bad video quality or audio quality, you can submit an issue by opening the content in Ombi to submit an issue for me to review and hopefully resolve.